"Whāia te mātauranga, hei oranga mō koutou — seek after learning, for the sake of your well-being"
Kia ora, mālō e lelei, talofa lava, kia orana, fakaalofa lahi atu, talofa ni, nisa bula vinaka, namaste, nín hǎo.
Welcome to the Aotearoa New Zealand Trans & Non-Binary Health Survey, Counting Ourselves.
Counting Ourselves is an anonymous health survey designed by and for trans and non-binary people. The 2022 survey is now LIVE!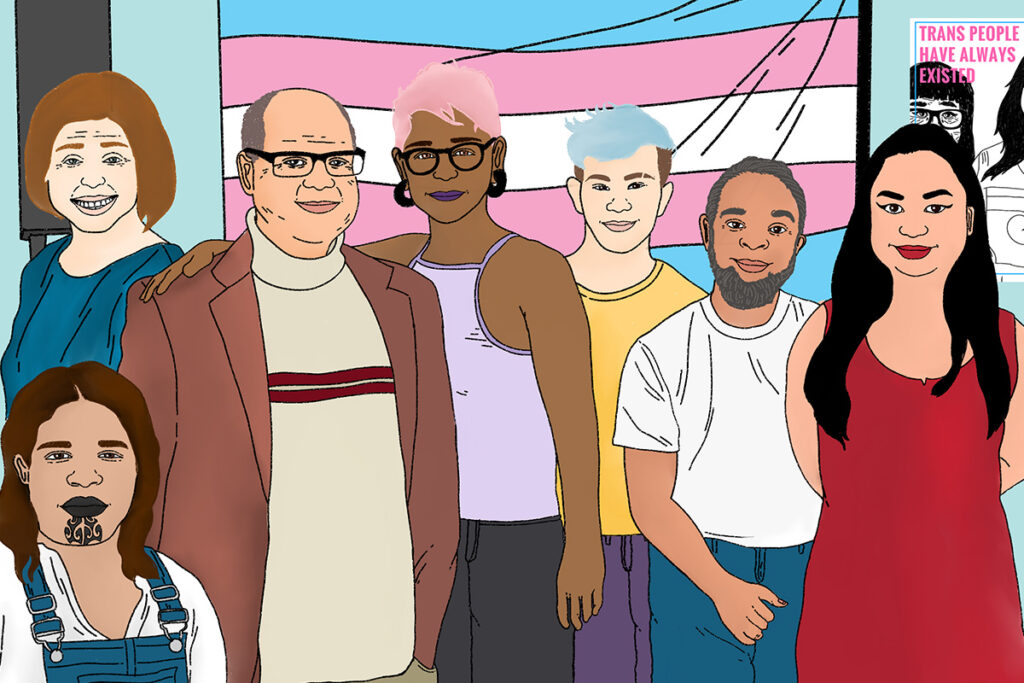 Are you trans or non-binary, aged 14 or older, and currently living in Aotearoa New Zealand?
YES? Then this survey is for you.
You can be stealth and complete this survey. The survey is anonymous. We do not ask for any information that would tell us who you are.
You can read more about the survey or start by clicking one of the buttons below.
If you don't complete the survey in one go, you can click on the link again on the same device to finish it.
Please contact us if you have any questions, need support, or want a paper copy of the survey to fill out instead of completing the survey online. If you need practical support to complete the survey, we will try to connect you to trans and non-binary people or groups who may be able to help.
Watch this NZ Sign Language video about the survey by clicking the video below:
What is this survey about?
Counting Ourselves is an anonymous online survey about the health of trans and non-binary people living in Aotearoa New Zealand. It was designed by trans and non-binary people to collect information that we hope will improve the lives of people in our communities. Counting Ourselves is a Kaupapa Māori informed research study.
You can take part in this survey if you are:
trans or non-binary and
aged 14 years or older and
currently living in Aotearoa New Zealand
It does not matter whether you use the specific terms 'trans' or 'non-binary' to describe yourself, whether you have transitioned or even plan to transition. This survey is for anyone whose gender is different from their sex assigned at birth, whatever term you use to describe your identity.
The more people who answer the survey, the stronger the evidence we will have to advocate for change.
How long will the survey take?
We expect it will take about 70 minutes to complete the survey online. The time taken may be less if you skip some sections or longer if you decide to write more about your experiences.
The information you provide in this survey is anonymous.
You can withdraw from the survey at any time before submitting it.
The only compulsory questions are the first ones, which are to check if you are trans or non-binary, live in Aotearoa, and are at least 14 years old.
You can skip any other questions, for any reason.
Only the research team will have access to the anonymous survey responses.
The Health and Disability Ethics Committee (Southern) granted us ethics approval for this survey (reference 2022 FULL 12683). If you have any ethical concerns about this research, you may phone them on 0800 4 ETHICS or send an email to hdecs@moh.govt.nz.
What types of questions will I be asked?
For most questions, you just need to select from some 'tick box' response options. For some questions, you can write your response in more detail.
Some questions are about difficult topics that might be hard for you to answer. We give you the option of 'skipping' past these ones without seeing them. 
Who can I contact for support?
If you want to talk to someone about some of the sensitive issues raised in the survey, you can text or call
1737
to reach a counsellor 24 hours a day through the
National Telehealth Service
. You can also contact
OutLine
's confidential Rainbow helpline every evening from 6pm-9pm (Phone:
0800 688 5643
; Email:
info@outline.org.nz
). We have listed some other helplines next to specific questions too and have a full list on the
Support page
. If you have any questions about any aspect of this survey, you can
contact
the research team by emailing
kiaora@countingourselves.nz
or by phoning us on
07 837 9216
.