The Counting Ourselves survey closes in exactly 1 month – on 30 September.
In the 10 weeks the survey has been live, we have already received over 900 submitted surveys. We are really excited that they come from almost all parts of Aotearoa, and from very diverse parts of our communities.  Lots of young people (aged 14+) are answering the survey, and our oldest participants are in their 80's and 90's. We are determined to do a big push over the last remaining month so we have strong data on smaller population groups, including Pasifika people, Asian people, and trans and non-binary people who are older or who live outside the main cities.  We have over 110 responses from Māori and would love to build on that momentum.
There are lots of ways that anyone reading this post can help. Right now we are trying to reach as many mainstream groups and networks as possible – because trans and non-binary people are everywhere.  We know that our social media campaign has been very successful with people who are part of our online community groups or networks. So some of our top priorities now are people who are stealth, those who have never belonged to groups, or who transitioned a long time ago and no longer have much contact with other trans people.
We need some help to reach more people in places such as Te Taitokerau (Northland), South Auckland, Coromandel, Waiariki (Bay of Plenty), Te Tai Rāwhiti (the East Coast), Wairarapa, Taranaki, South Canterbury, central Otago,  and Te Tai Poutini (the West Coast).  The biggest help is if people share this post or our Facebook posts to any community networks they have in those parts of the country. We have some posters going up on billboards in Whangarei, Gisborne, Hastings, and Invercargill next week. If you spot them on one of the Phantom billboard sites around town, we'd love a photo to share on social media – especially if it includes locals excited about what we're doing.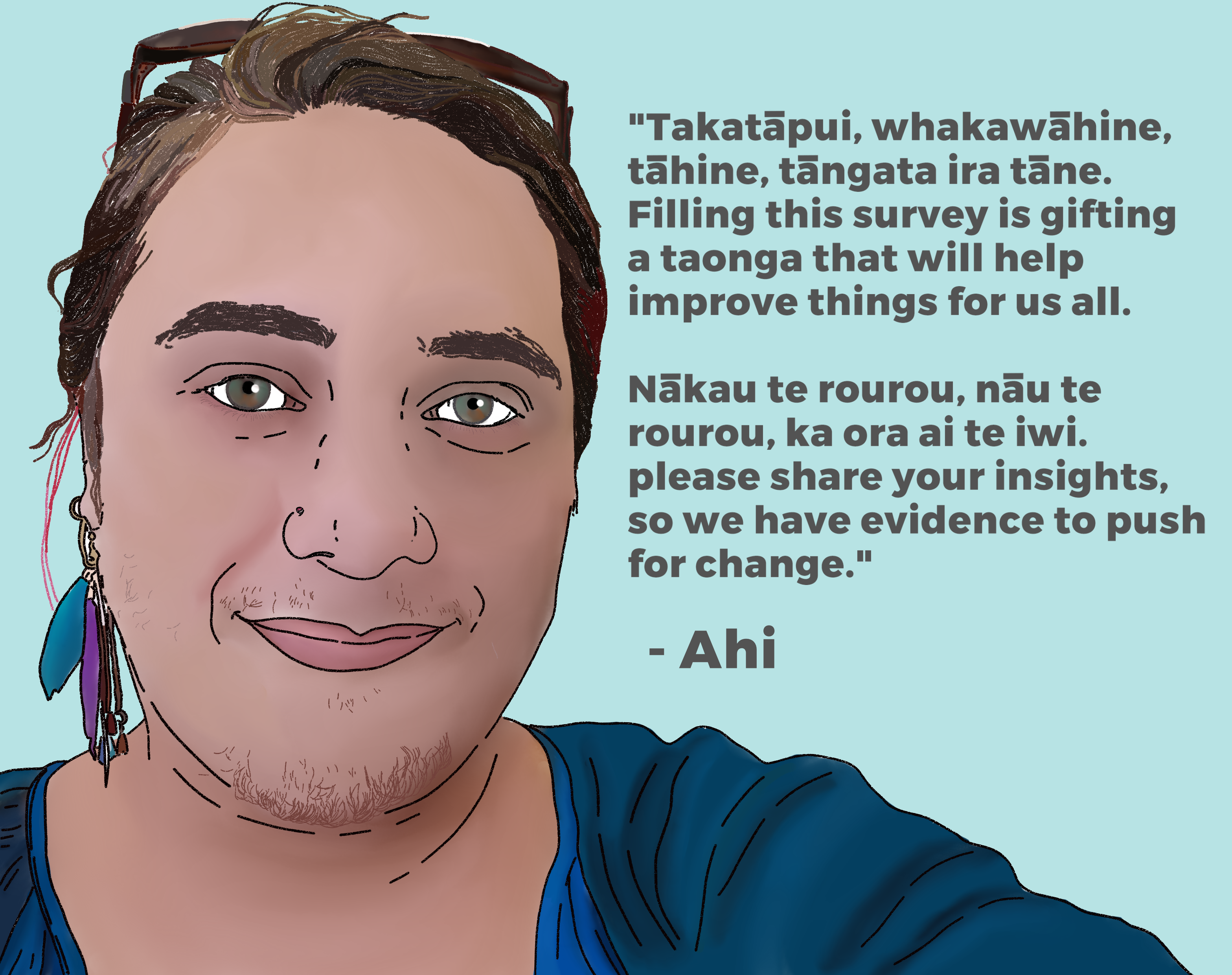 Our website and Facebook page both contain wonderful drawings by Huriana Kopeke-Te Aho, profiling people from all parts of our communities, sharing their thoughts about why this survey is important.  Share those images widely to promote the survey and celebrate our community. You can also download  posters and flyers from our website. We have been encouraging people to put these up in their workplaces, GP offices, at their DHB clinic, and in public spaces such as local libraries, marae, and youth and community centres. People can also contact us for hard copies of the survey, poster, or flier.
We are so grateful to people for all the things they are doing to put the word out. Please keep it up for this last month. We really want to get at least 1000 surveys completed, from all parts of our communities.  As Ahi Wi-Hongi said when we launched the survey on 21 June, "Filling this survey is gifting a taonga that will help improve things for us all. Nākau te rourou, nāu te rourou, ka ora ai te iwi."
Ngā mihi mahana
Jack and Jaimie (for the Counting Ourselves team)